Events
Keep Australia Beautiful NSW runs a number of events throughout the year, which educate about best environmental practices as well as reward those in the community who make large strides towards keeping NSW beautiful.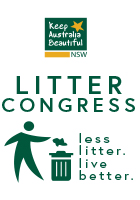 Litter Congress
With an emphasis on thoughtful and research-based methods of inquiry and with input from a range of sectors, the Litter Congress is an opportunity for individuals and groups involved in litter management, prevention and reduction to assemble to jointly tackle littering and behaviour change in an interactive environment.
Sustainable Communities – Tidy Towns Awards
Since 1981, the Sustainable Communities – Tidy Towns Program has been rewarding and recognising projects around litter, waste management, recycling, heritage, community spirit and other environmental areas in towns both large and small across the breadth of NSW.
Winning the title of the "State's Tidiest Town" has become a much sought-after honour and is highly contested by small and large towns alike.


Sustainable Cities Awards
Keep Australia Beautiful NSW Sustainable Cities Awards Program is a community and environmental awards program for metropolitan communities in NSW, fostering partnerships between local authorities, businesses, community groups, schools and individuals. Since 1994, projects that not only enhance the environment but also improve the standard of living and well-being of urban communities have been a hallmark of the activities recognised by these awards.
Annual Fundraising Dinner
The Keep Australia Beautiful NSW (KAB NSW) Annual Fundraising Dinner is a prestigious affair held at Parliament House, Sydney.
The NSW Premier is the President of KAB NSW and each year hosts our fundraising dinner, which is our one fundraising venture of the year.