KAY VEITCH
Chair
An experienced board member and organisational ombudsman, Kay has more than 25 years executive leadership experience in commercial organisations that include Qantas Airways, Virgin Australia Airlines and GWA Group.
Having held Non-Executive Director roles with CARE Australia and Bestest, Kay is currently a Non-Executive Director with Evolve Community Housing,  ASPECT Studios Pty Ltd and Greater Sydney Local Land Services.
DAVID CARTER
Deputy Chair
From 2005 to 2014, David was Group Environment and Business Continuity Director for Lion Co.
David's earlier career in engineering and supply chain, at Proctor and Gamble, Lend Lease, then Lion, led to David's appointment to Lion China as China Operations Director, Joint Managing Director and Business Development Director, until his appointment to Lion's Group Environment and Continuity Director role.
He was CEO & President of the Australian Packaging Council, and Director and interim CEO of the Australian Packaging Covenant
David is the Current Chair of Keep Australia Beautiful , member of the New Zealand Environment Ministers Waste Advisory Board, and is Chair of the CSIRO's Earth Systems and Climate Change Hub Stakeholder Advisor Group.
VAL SOUTHAM
Executive Director
Val has been a senior executive in the environment industry for 30 years, and CEO and Executive Director of KAB NSW for three years.
She has had senior environmental affairs roles in major corporates in the packaging industry and was the Chief Executive Officer of the Waste Management Association of Australia (WMAA) for 15 years.
Val brings a wealth of board experience having served on a number of boards and government advisory committees including the Federal Government's Product Stewardship Advisory Committee, the Oil Stewardship Advisory Council, the National Packaging Covenant Council and the National Packaging Industry Association.
Val was also the former Chair of Keep Australia Beautiful National Association (KAB), stepping down on 9 February 2017 to take on the role of KAB CEO  in a part-time capacity.
ANDREW BEST
After a 37-year long career in teaching, Andrew is the recently retired principal of Harrington Park Public School.
Andrew was the recipient of the 2008 Churchill Fellowship for Environmental Education. He is a trained facilitator for the Franklin Covey Seven Habits of Highly Effective People; and Great Teams, Great Leaders, Great Results programs. Andrew was previously Chairman of Macarthur Sustainable Schools Network, a position he held for 10 years.
Andrew is currently a part time Educational Leadership Consultant/Mentor with Climate Reality Leadership Corp operating through University of Melbourne.
HARRY PETROPOULOS
Harry is joint Managing Director of Red Pill Holdings Pty Ltd (trading as Red Pill Performance Consultants).
Red Pill consults to public, private and NFP organisations on business performance and board governance.
Harry has been the senior torch-bearer on several significant business transformation programs. He has held leadership roles at Laminex Industries, Lion Nathan, Boral and George Weston Foods.
Harry is a registered psychologist.
GERARD VELAYUTHEN
Gerard has held senior executive and non-executive board roles in aerospace, mining services and infrastructure projects. He is currently director and shareholder of Velconsult International Pty Ltd and a Fellow member of the Australian Institute of Company Directors.
He brings to KNSWB experience in formulation and execution of business strategies, business development, financial and operational management and a proven track record as a Finance Director/Chief Operating Officer in multinational companies.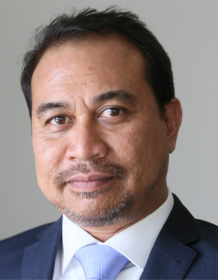 ALVIN PIADASA
Alvin is the founder and former managing director of TES-AMM Australia and New Zealand which is part of the TES Group of companies, a leading global IT sustainability services company.
He has broad business development experience in several industries and at TES was the key proponent of product reuse and circular economy strategies, which helped transform the group from an e-recycling company to a complete IT lifecycle service organisation.
Alvin has been an active participant at stakeholder forums and waste policy discussions on electronics and battery product stewardship in Australia and New Zealand and internationally since 2006. In his current capacity as group head of environmental sustainability, Alvin is responsible for driving innovation, sustainability and advocacy initiatives worldwide.
He is excited to be able to contribute his commercial, environment, social and governance experiences to the KABNSW Board.